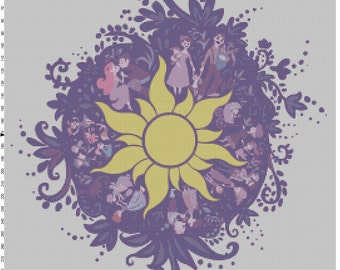 In the movie "Tangled", baby princess Rapunzel is taken from her palace home when she is an infant. An evil old woman named Gothel kidnaps her and her sun-drop magical gift.
Mother Gothel raises Rapunzel in a tower distant from all human connection. Rapunzel occupies her time with painting, playing with her chameleon Pascal, cleaning, painting some more, reading, cleaning, pottery, ventriloquy…waiting for her life to begin, as the lyrics go. She watches out the tower window and notices what happens to the world around her. Her favorite event is the annual light show that occurs in the sky from the nearby kingdom. After a few years, she realizes that the lights appear in the sky on the night of her birthday. Finally, she asks her 'mother' if she can go see the lights as a birthday gift.
Mother Gothel replies (in Disney song) with a list of all the terrors that are out in the world, thus hoping to burst Rapunzel's bubble of hope about the outside world. "Ruffians, thugs, poison ivy, quicksand, cannibals, snakes, the plauge…" (artistically sung and choreographed, of course). And her scheme of discouragement works. Rapunzel changes her mind about wanting to leave the tower.
Enter Ryder Flynn, criminal extraordinaire. When Gothel left the tower to acquire supplies to mix more paint for Rapunzel, Ryder unexpectedly arrives, hiding from other thieves whom he has insulted. Through a series of events involving various (and humorous) whacks with Rapunzel's frying pan, this 'ruffian' agrees to take her to see the castle lights, in exchange for the safe return of his satchel of loot.
Rapunzel struggles with her conscience as she begins her adventure out of the tower. "Mother would be so furious…this would kill her…this is sooooo fun…I'm a horrible daughter…I'm never going back…I'm a despicable human being…Best Day Ever!!!!'
Rapunzel's experiences thus far remind me so much of my own life. Locked in a place that looked like home, seemed like home, had the 'comforts' of home for years. Told truths of safety and security. Encouraged to make the best of where I was, not to try anything risky. Warned of dangers known and unknown. Promised that 'mother knows best'. And truthfully, isn't that simple, uncomplicated life ideal? Isn't safety desired?
Well, when I look at the life of Jesus, I see so much more. I see him mingling with questionable characters. I see him encouraging people to have faith in something bigger than they can earthly imagine. He says, 'Step out and walk on the water.' Walk around city walls and watch them fall. Hold up your arms and the sea will split, the sun will stand still. Love your enemies. Rejoice when persecuted. Pray and give and you'll be rewarded. You're watched and cared for more than anything else in creation, so don't be afraid.
You see, like Rapunzel, we were stolen from our original family. We have been told the lie that earthly goals and mankind's dreams are the best we can do. 'Mother knows best' comes in the form of 'they know best', 'the media knows the whole story', 'the Joneses are the ones to keep up with'…lies, lies, lies. Our Heavenly Father knows best. He speaks truth always. He tells us that it won't be easy; we will be persecuted, times will be hard. But he is with us and has, from the dawn of time, has greater plans for us than our sheltered tower life can provide.
I love the lyrics to the song "I See the Light"…because it describes exactly how my life changed when I realized what I could do with God in my life.
All those days watching from the windows
All those years outside looking in
All that time never even knowing
Just how blind I've been
Now I'm here blinking in the starlight
Now I'm here suddenly I see
Standing here it's all so clear
I'm where I'm meant to be
And at last I see the light
And it's like the fog has lifted
And at last I see the light
And it's like the sky is new
And it's warm and real and bright
And the world has somehow shifted
All at once everything looks different
Now that I see you.
It's a Tangled life. Mixed messages, broken promises, twisted confusions… but it all gets straightened out when we acknowledge that God is greater than all the mess. He wants us to be brave enough to take that first (barefoot) step out of our comfort home to seek the adventure he has for us.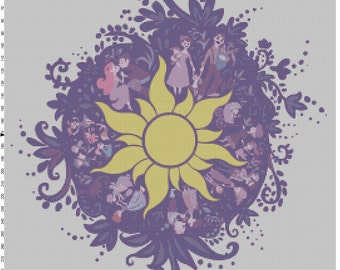 image from http://www.etsy.com
Scripture references:
Exodus 14 (Crossing the Red Sea)   Joshua 10 (Sun standing still)
Joshua 6 (Jericho's walls fall)          Matthew 5-7 (Rejoice when persecuted)
Matthew 14 (Peter walks on water)