My peaceful night's sleep last night was interrupted by a screaming six year old at my bedside. I grabbed my little daughter and pulled her into bed with me, hugging her while she sobbed. I could barely understand her terrified words. Something about it being big, really big, with long legs, in her room, on the gray chair…it was so big….so scary.
When I turned on the lamp on the nightstand, I saw fear all over her face. Huge blue eyes overflowing with even huger tears. Cheeks red with exhaustion and terror. Precious little mouth trembling as she tried to explain. The words were so frightening…recounting what had happened made it seem so real again.
She had awakened and apparently noticed movement across her room in a small chair. As she looked, she saw the long legs, the round body, the creeping threat of a spider as big as a coffee mug. She gestured to a mug on my nightstand. 'Well, it wasn't quite that big,' she gasped, 'but it was close'…and the sobbing began again. And the hugging continued.
Ten minutes later, Daddy returned from the fight. 'Is it gone?' her trembly, tiny voice inquired.  Brave Daddy stated that he had vanquished (captured and flushed) the foe (a grandaddy-long legs). Her bedroom was safe to sleep in. She clung to me and begged not to have to sleep in there, but I assured her that I would come too.
As I snuggled with her in her safe, cozy bed, listening to her broken sobs turn to whole, peaceful snoozing, I thought of what she had asked her daddy…'Is it gone?' Her ultimate concern. The fear needed to be gone. It had come upon her unexpectedly…catching her at her weakest moment…in her most peaceful place. The fear had shattered her security.
I considered the bravest of the brave in the Bible…the ones we are supposed to look to as examples of faithful living…and how they had their own nighttime battles.
Childless Abram, worried about the future of his family and nation, was reassured by the word of God saying  "Look up at the sky and count the stars—if indeed you can count them." Then he said to him, "So shall your offspring be."  God used the darkness to answer Abram's question.
Young Samuel met God for the first time in the night.Samuel went and lay down in his place. The Lord came and stood there, calling as at the other times, "Samuel! Samuel!"Then Samuel said, "Speak, for your servant is listening." God spoke to Samuel in the darkness, revealing the plan He had for the young boy's life.
Jacob wrestled with his worries at night and found God in the midst of the struggle.  When Jacob awoke from his sleep, he thought, "Surely the Lord is in this place, and I was not aware of it."
Nicodemus came to Jesus at night and said, "Rabbi, we know that you are a teacher who has come from God. For no one could perform the signs you are doing if God were not with him."
Night should relax us, but instead, our minds unwind and rewind our worries. Shadows creep and crawl around us, hiding truth and exaggerating reality.
Consider this: Jesus was born at night. Angels shattered the blackness of the night sky with the bright splendor of His glory and praise. Shepherds joyously sought His birthplace in spite of the darkness. The star lit a path in the night sky for the wise men to follow for months. God controls the night…he works through the darkness.
God knows the struggles, the fears, the tears, the spiders that creep upon us, shattering our peace. We crave light and answers. He is in the dark , and He has answers. And to answer our ultimate question, 'Is it gone?'… yes. The fear is gone.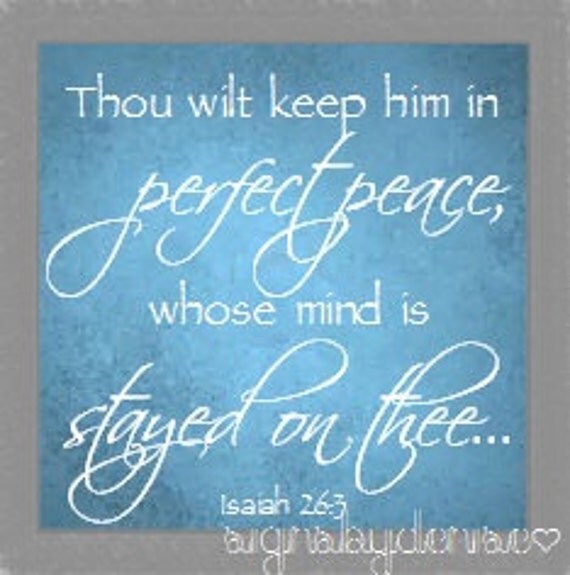 https://www.etsy.com/listing/124387663/thou-wilt-keep-him-in-perfect-peace